Why should you use the Peppol network?
PEPPOL network allows a secure and real-time exchange of all electronic procurement documents (e-Orders, e-Invoices and e-Transport Documents) in the same format nationally and internationally.
Currently there are 39 countries with Peppol activity and around 400.000 user businesses worldwide. More than 150 million transactions were carried out last year. 
Within Europe

; UK, Italy, Belgium, Netherlands, Germany, France, Norway, Sweden, Denmark, Croatia, Poland, Greece, Iceland and Ireland have their

Peppol Authority.
Beyond Europe

; Singapore, Australia and New Zealand are the countries where Peppol Authority was established.
What are the benefits of connecting to Peppol?
Peppol's four corner model is simpler and more flexible than other e-Document exchange models as parties do not need to set up p2p connections or use the same service provider. Users connect to an access point (AP) and put the recipient's Peppol Identifier (peppol ID) on the document to send it to the target recipient.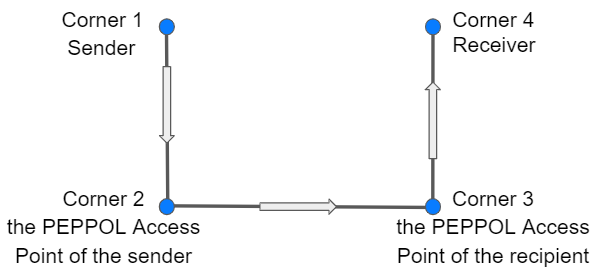 Advantages of connecting your software To peppol:
Lower barriers to entry for users and Access Point providers

Low cost: no roaming costs between AP providers

Open market of AP providers: many choice for end users & no lock-in
What is a Peppol access point?
A Peppol Access Point connects participants to the PEPPOL eDelivery network and executes electronic document exchange.
Connect once, connect to all: Buyers and suppliers must choose a single AP provider to connect to the other participants on the network.
How do I send e-Invoices with a Peppol access point provider?
Once connected to the PEPPOL network via an Access Point, organizations can start sending e-Invoices immediately. Invoices can be issued through Peppol-Ready Accounting / ERP Solutions according to the Business Interoperability Specifications (PEPPOL BIS). The latest version is BIS 3.0. 
SNI is a certified Peppol Access Point provider and has an SAP add-on for Peppol e-Invoicing.                                                                                                                                                                
What is OpenPEPPOL ?
OpenPEPPOL is a non-profit international association responsible for the development, implementation and maintenance of the PEPPOL services across Europe. Its members are from both public and private sectors. 
It aims to enable organizations to manage all e-Procurement processes easily, eventually providing greater competition in public procurement and international trade.
How to Become an OpenPeppol member
To obtain the registration form for membership, you should contact info@peppol.eu
Membership and signing the Transport Infrastructure Agreements (TIA) are mandatory for PEPPOL Authorities, Access Point Providers and Service Metadata Publisher Providers. 
In addition, following types of organisations can be an OpenPeppol member: Public entities and their suppliers; and other users of PEPPOL services
A member shall accept the Statutes of the Association and pay an annual fee. Members will have the opportunity to join their forces and set Peppol standards, accomplish automation and worldwide connectivity.
Future of Peppol
France, Australia, Japan and Saudi Arabia have announced that they will make e-Invoicing mandatory and adopt Peppol BIS as their e-Invoice Format in 2023. USA is preparing for an e-Invoicing framework which will include Peppol. Ongoing developments:
Peppol international invoicing

which provides cross-border interoperability out of Europe 

Peppol continuous transaction controls (CTC)

model which supports delegated clearance and indirect tax reporting models.